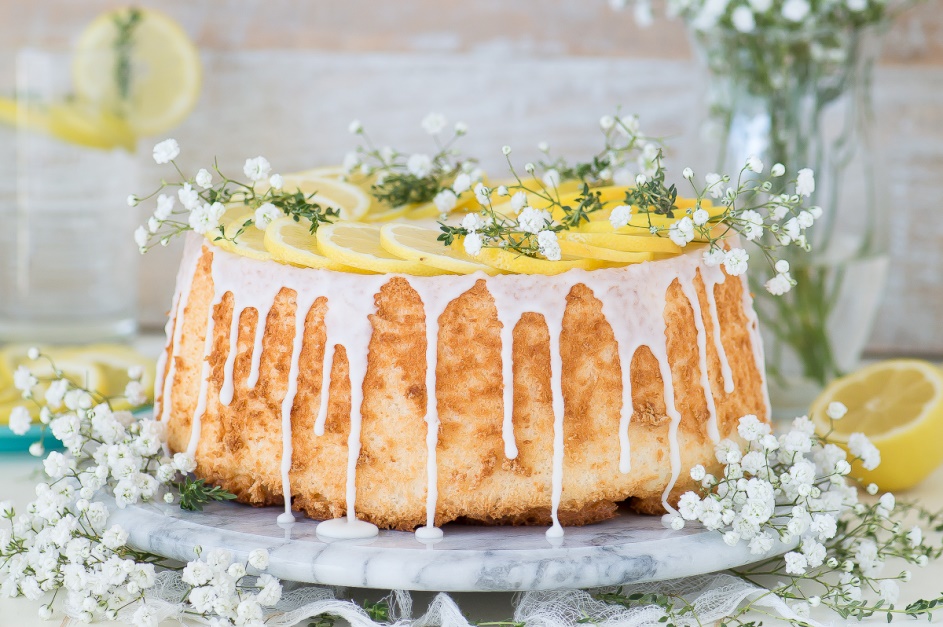 Ingredients
½ cup of Junal lemon seasoning
1 c. cake flour
½ c. powder icing sugar
67 c. 12-14 large egg whites
1½ tsp. cream of tartar
½ tsp. salt
1 tsp. vanilla extract
1¼ c. granulated sugar
FOR THE SAUCE:
¼ cup of Junal lemon seasoning
½ c. sugar
1 Tbsp. cornstarch
1 Tbsp. margarine or butter
Preparation
Preheat oven to 375°F (190°C).
On waxed paper, mix flour and powder sugar; set aside.
In large bowl, with mixer at high speed, beat egg whites, cream of tartar, and salt until soft peaks form. Beat in vanilla and JunalTM lemon seasoning. Beating at high speed, sprinkle in granulated sugar, 2 tablespoons at a time, beating until whites stand in stiff peaks.
Sift flour mixture over egg whites, one-third at a time, folding in with rubber spatula after each addition, just until flour mixture is completely incorporated.
Spoon batter into ungreased 10-inch (25cm) angel food cake pan with removable bottom; with metal spatula, gently spread evenly. Bake cake 35 to 40 minutes, until top springs back when lightly touched with finger. Invert cake in pan on funnel or bottle; cool completely in pan.
Meanwhile, prepare JunalTM Lemon Sauce: In a saucepan, mix sugar and cornstarch until blended. Add JunalTM lemon juice, margarine or butter, and 2/3 cup water; heat to boiling over high heat, stirring frequently. Boil 1 minute, stirring. Transfer sauce to bowl; cover and refrigerate until ready to serve. Makes about 1 1/4 cups.
With metal spatula, carefully loosen cake from pan; place on cake plate. Serve cake with sauce.
100% RELIABILITY, EXCELLENCE CREDIBILITY, INNOVATION, IMPROVEMENT