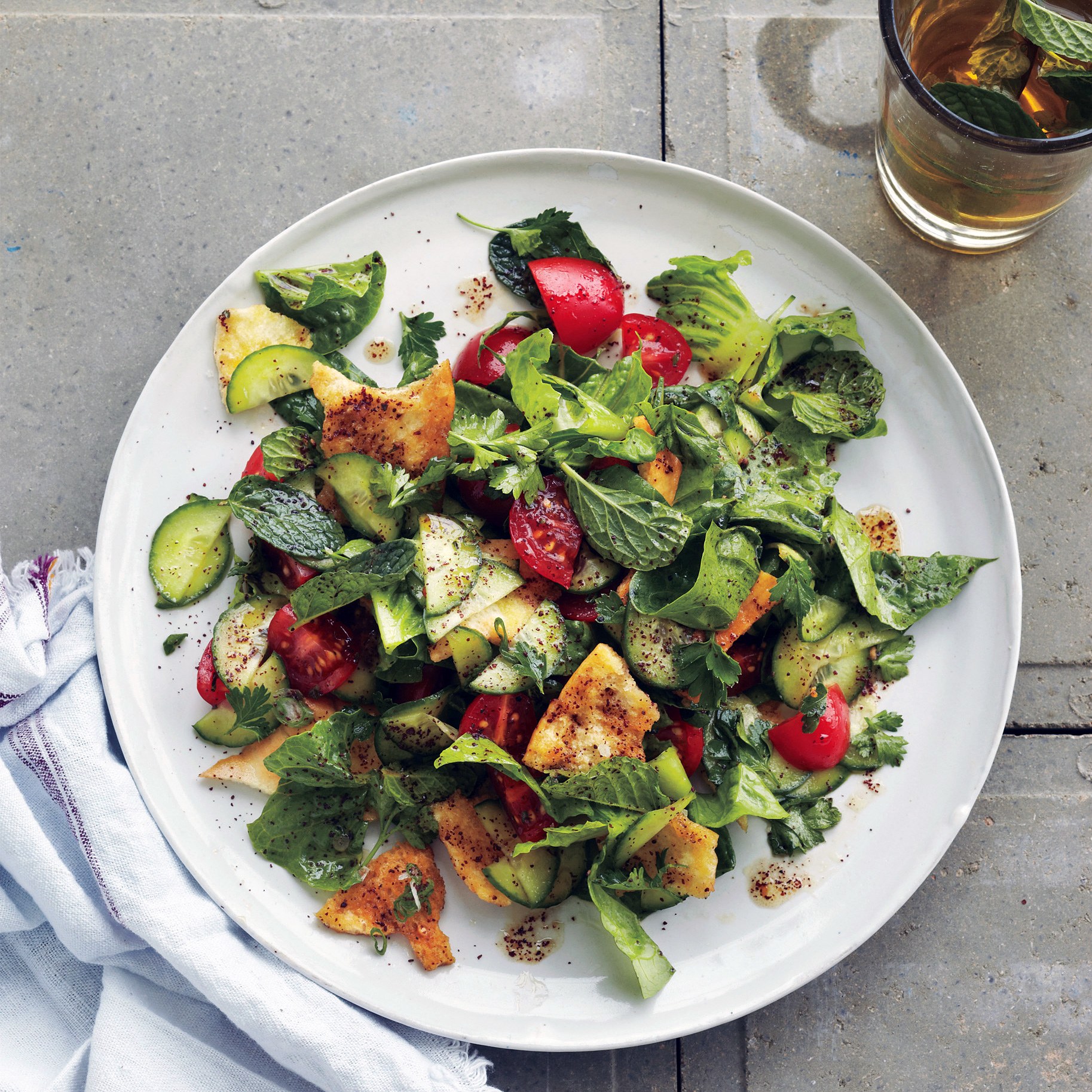 Ingredients
FOR THE TOASTED ARABIC BREAD:
2 Arabic bread or pita bread
1 Tbsp extra-virgin olive oil
1 tsp JunalTM sumac powder
FOR THE SALAD:
6 leaves of romaine lettuce coarsely chopped
3 red radish trimmed and thinly sliced
2 firm ripe tomatoes diced
2 small cucumbers (or 1 large) halved lengthwise and chopped
1 small green bell pepper seeded and chopped
1 green onion thinly sliced (white and green parts)
1/2 small bunch fresh mint stem removed and coarsely chopped
1/2 small bunch flat-leaf parsley stem removed and coarsely chopped
1/2 small bunch purslane leaves only
FOR DRESSING:
3 Tbsp extra virgin olive oil
½ cup of Junal lemon seasoning
1 clove garlic minced
1 Tbsp Junal pomegranate molasse
1 tsp Junal sumac powder
1/2 tsp salt
Preparation
Cut the Arabic bread into 4 pieces and split them in half.
Brush each wedge with extra virgin olive oil, sprinkle with JunalTM sumac powder and toast them in the oven for 5 minutes or until they are light brown.
Chop all the vegetables and herbs and place them in a large bowl.
Prepare the dressing. Blend well the ingredients.
Pour the dressing on the salad and toss lightly.
Crash the toasted bread with your hands, add it to the salad and mix again gently.
Sprinkle the Fattoush salad with JunalTM sumac powder (optional).
100% RELIABILITY, EXCELLENCE CREDIBILITY, INNOVATION, IMPROVEMENT